Sault, Aurel, Saint-Trinit
MTB n°8 - Terre de lavande
Positive elevation
511 meters
Negative elevation
511 meters
Altitude
Min. 682 meters
Max. 856 meters
circuit
variante
voie verte
liaison
Departure / Arrival
Sault / Sault
Parking
Sault
Elevation
Downloads
GPX track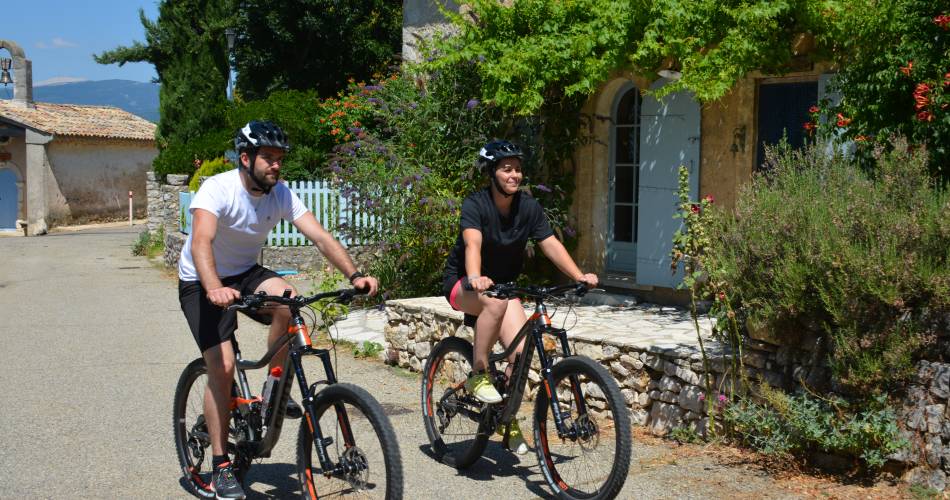 The tourist service at Sault :
A varied, picturesque circuit accessible for all, including mountain bikes with electric assistance.
Relatively strenuous because of its rolling profile, this cycle route is popular for its variety of paths and panoramic views over the villages and surrounding hilly areas. At the 6th kilometre, the less experienced can go on directly towards the village of Aurel so as to avoid a relatively steep ascent between kilometres 8 and 9.
Accéder à l'itinéraire
recommended
parking(s)
Aires Carpark
road access
From Carpentras, follow the D942 towards Mazan then the D1 from Villes-sur-Auzon.Once in the centre of Sault, follow the signs to the Aires Carpark.
To be noted
During hunting season, wear a brightly coloured outfit to make yourself distinguishable, and follow the signs posted by hunters.
If you come across a herd, bypass it and follow the rules concerning livestock guardian dogs.
If you notice a problem on one of the Provence cycling routes
report it with the Suricate app!:
sentinelles.sportsdenature.fr
Access to the massifs
Respect the regulations preserving protected natural areas – find out about restrictions to accessing the massifs during fire risk periods, from 15 June to 15 September.
Before heading out, check the website
In short
The Sault Plateau with its fields of lavender and small spelt
The villages of Sault, Aurel and Saint-Trinit
Panoramic views of nearby villages and mountain ranges