Bedoin
MTB n°2 - Le Pavillon Rolland
Positive elevation
741 meters
Negative elevation
740 meters
Altitude
Min. 297 meters
Max. 858 meters
circuit
variante
voie verte
liaison
Departure / Arrival
Bédoin / Bédoin
Parking
Bédoin
Elevation
Downloads
GPX track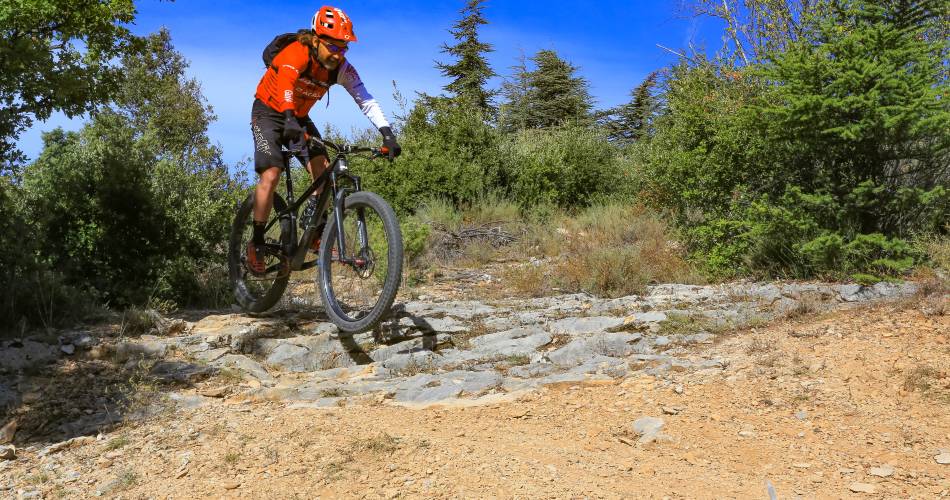 The tourist service at Bédoin :
The route takes you through the centre of Bedoin, a village renowned for its typical Provençal market held on Mondays. It then snakes across the southern piedmont of Mont Ventoux.
The trail, which is aimed at experienced cyclists, then traverses the ochre-coloured landscape of the Demoiselles Coiffées, and the traditional hamlets of Les Baux and Ste Colombe before climbing the first foothills of the so-called "Giant of Provence." After a lovely, technically-challenging, downhill run through the Combe d'Ansis, the loop leads you along some gentler paths back to Bedoin.
recommended
parking(s)
Parking at the municipal campsite
To be noted


During hunting season, wear brightly coloured clothing, make yourself known and respect the signage put in place by the hunting party.


If you come across a herd of animals, go around rather than through it and respect safety regulations concerning livestock guard dogs


If you notice a problem on one of the Provence cycling routes
report it with the Suricate app!:
sentinelles.sportsdenature.fr
In short
The ochre site of the Demoiselles Coiffées
Bédoin and its charming hamlet Les Baux
Discovery of the foothills of the Giant of Provence