Bedoin
MBT n°1 - Les Baux
Positive elevation
358 meters
Negative elevation
359 meters
Altitude
Min. 298 meters
Max. 524 meters
circuit
variante
voie verte
liaison
Departure
Bédoin - Camping Municipal
Arrival
Bedoin
Parking
Bedoin
Elevation
Downloads
GPX track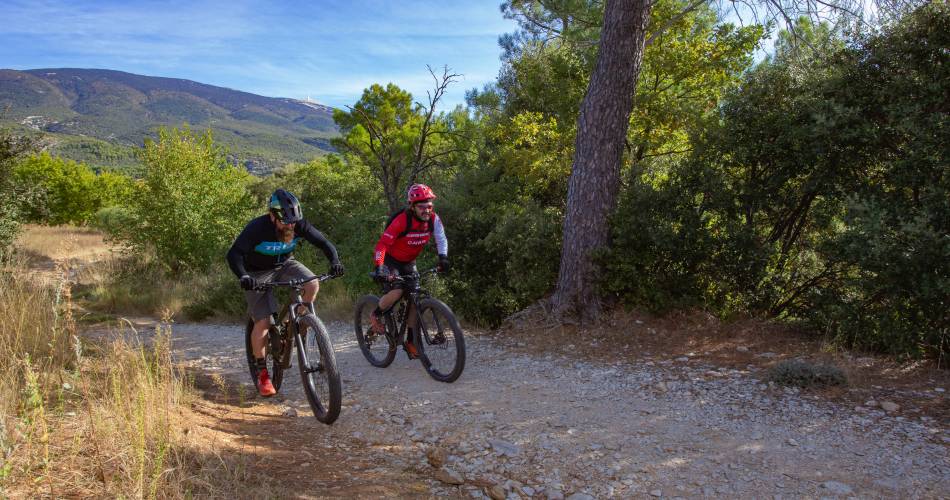 The tourist service at Bédoin :
This is an easy mountain bike trail ideal for exploring the village of Bedoin and its surrounding areas.
Some parts of the trail present a big difference in height or level.
Pick up a map from the Tourist Office and follow the route along small roads, dotted with unusual sites.
Once you've passed the maison forestière des cèdres (forester's house), you'll reach the Demoiselles Coiffées, set in an amazing ochre landscape. Then head for Les Baux, a typical Provençal hamlet, followed by an easy climb to the place known as "les Clops." The last third of the route is a pretty downhill run, leading you back to the village of Bedoin.
road access
From Carpentras, follow the D974 towards Bédoin/ Mont-Ventoux
public transport
Trans'CoVe bus network(fr) T.+33 (0)4 84 99 50 10 Consult the Zou bus network
recommended parking (s)
In front of the municipal campsite
In short
Discovery of Bédoin and the first foothills of Ventoux
Varied and enjoyable circuit between vineyards, ochres and forests


During hunting season, wear a brightly coloured outfit to make yourself distinguishable, and follow the signs placed by hunters.


If you come across a herd, bypass it and follow the rules concerning livestock guardian dogs.