Caromb, Modene, Crillon-Le-Brave, Bedoin, Flassan, Villes-Sur-Auzon, Blauvac, Monieux, Sault, Aurel, Reilhanette, Montbrun-Les-Bains, Savoillan, Brantes, Saint-Leger-Du-Ventoux, Mollans-Sur-Ouveze, Entrechaux, Crestet, Malaucene, Le Barroux, Suzette
Cycling around Mont Ventoux
Positive elevation
2022 meters
Negative elevation
2022 meters
Altitude
Min. 179 meters
Max. 786 meters
circuit
variante
voie verte
liaison
Departure
Villes-sur-Auzon
Arrival
Villes-sur-Auzon
Parking
Villes-sur-Auzon
Elevation
Downloads
GPX track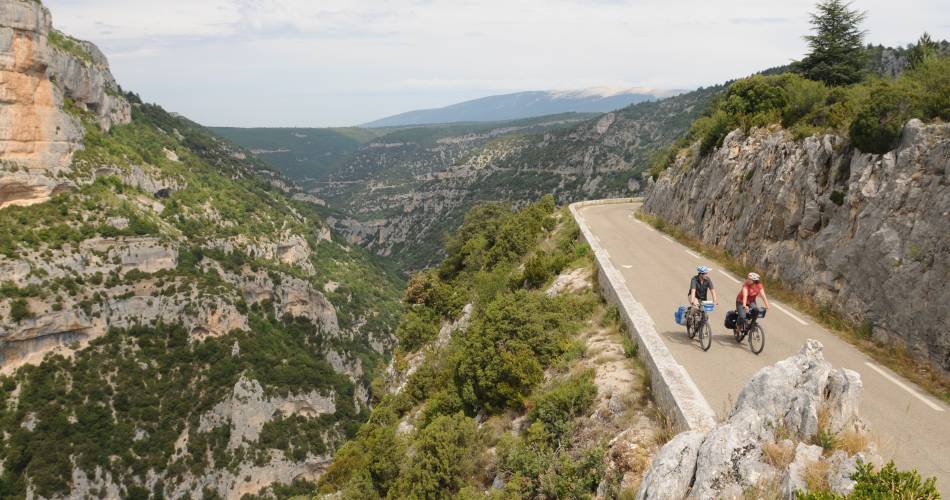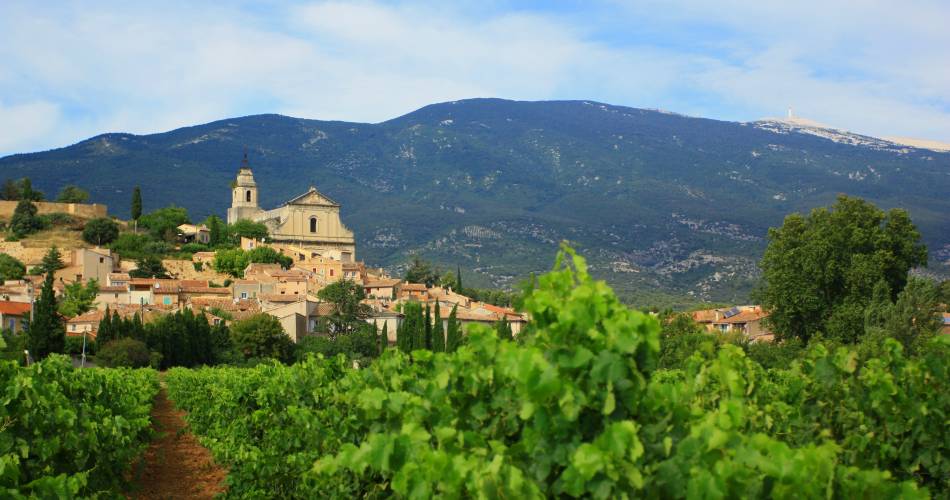 The tourist service at Villes-sur-Auzon :
Even though cycling up Mont Ventoux is reserved for the most athletic among us, the 'Tour de Ventoux' is a challenge open to anyone who wants to give it a try. Whether you're using a hybrid bike, electrically assisted bike, or road bike - this route will enable you to discover Mont Ventoux from all sides.
On road bikes, hybrid bikes or electric power-assisted bikes, this itinerary will enable you to explore the many different faces of Mont Ventoux.
On the southern side, the fruit, vegetable and vine-growing plains of the Comtat Venaissin, studded with authentic beautiful hilltop villages. To the south-east, the touring road through the Nesque River Canyons, and the breathtaking vantage point of the Rocher du Cire. To the east, the wide open spaces of the Sault highlands covered with fields of lavender and spelt. On the north side of Mont Ventoux, the Toulourenc River valley and magnificent vistas of Mont Ventoux. And to the west the craggy range of the Dentelles de Montmirail with their amazing limestone cliffs.

The Stages on the Tour du Ventoux trip
These stages are our suggestions. With the roadbook you can put together your own trip and follow this itinerary at your own pace.

1 - VILLES-SUR-AUZON > SAULT 30 km – 18.6 miles
Via Monieux

2 - SAULT > MALAUCENE 50 km – 31 miles
Via Aurel > Savoillans > Saint-Léger du Ventoux > Malaucène

Optional for road bikes (+ challenging)
After Saint-Léger-du-Ventoux: at the D40/D40a crossroads, turn left in the direction of the hamlet of Veaux. Cycle through the hamlet and continue on the D242 to Malaucène (Savoillans-Malaucène = 33 km – 20.5 miles)

3 - MALAUCENE > VILLES-SUR-AUZON 40 km – 24.8 miles
Via Suzette > Le Barroux > Caromb > Modène > Crillon-le-Brave > Bédoin > Flassan

Optional for road bikes
In Crillon-le-Brave: continue on the D138 to avoid the unpaved area around the old quarries
In short
A trip along short tourist routes that will aid your discovery of the Mont Ventoux Natural Regional Park.The route takes you all around the giant of Provence without ever needing to climb it.Although it passes through the legendary villages of Bédoin, Malaucène, and Sault, 3 different starting points for a climb up the mountain, the route continues across the slopes of the massif, allowing you to discover the Gorges de la Nesque, the Albion plateau and its lavender fields, the secret Toulourenc valley and hilltop village, Brantes, Vaison la Romaine and its ancient sites, and of course the excellent wine of the Dentelles de Montmirail. The main tourist route in the Nesque remains a busy road in summer, so be careful, as you will be sharing the road with other vehicles. This route is child-friendly, and is accessible to road bikes, touring bikes, or electric bikes. For maximum enjoyment, regular cycling practice is recommended.