Saint-Saturnin-Les-Apt
MTB trail n° 53 - Travignon by the Cluyer
Positive elevation
1269 meters
Negative elevation
1270 meters
Altitude
Min. 359 meters
Max. 1052 meters
circuit
variante
voie verte
liaison
Departure / Arrival
Parking de la piscine - Saint Saturnin les Apt / Parking de la piscine - Saint Saturnin les Apt
Parking
Parking de la piscine - Saint Saturnin les Apt
Elevation
GPX track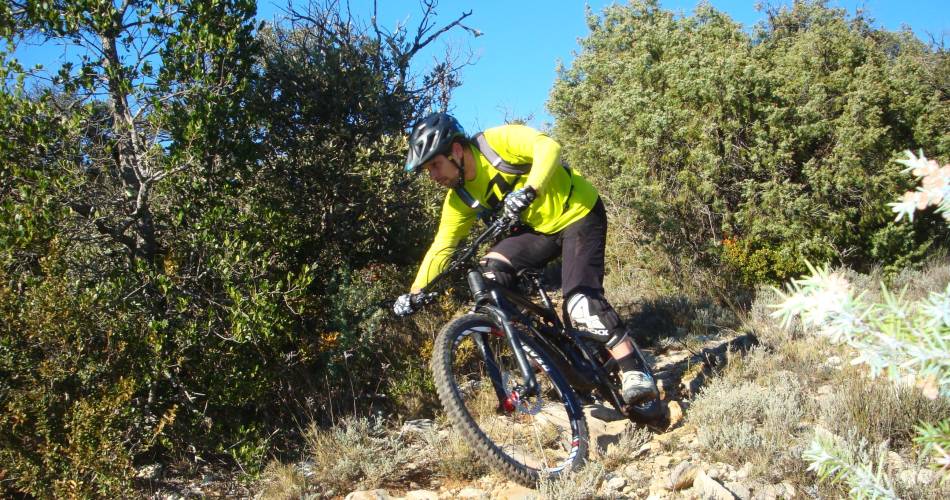 The tourist service at Saint-Saturnin-lès-Apt :
A superb but technically demanding and strenuous itinerary. Combines some of the most beautiful descents of the St-Saturnin-lès-Apt area and Pays des Aiguiers and is a popular spot for local mountain-bikers especially in winter or after heavy rain.
Here what matters is precision steering, powerful pedalling and cycling endurance! Breathtaking views, rural heritage and a magnificent hilltop village are some of the incredible sights en route. Sheer joy!

Important: watch your speed on the descent – you might not be the only one on the trail!
To be noted
If you notice a problem on one of the Provence cycling routes
report it with the Suricate app!:
sentinelles.sportsdenature.fr