Viens, Caseneuve, Gignac
MTB N° 55 - Travers de Pierroux
Positive elevation
321 meters
Negative elevation
320 meters
Altitude
Min. 490 meters
Max. 681 meters
circuit
variante
voie verte
liaison
Departure / Arrival
Mairie - Viens / Mairie - Viens
Parking
Mairie - Viens
Elevation
GPX track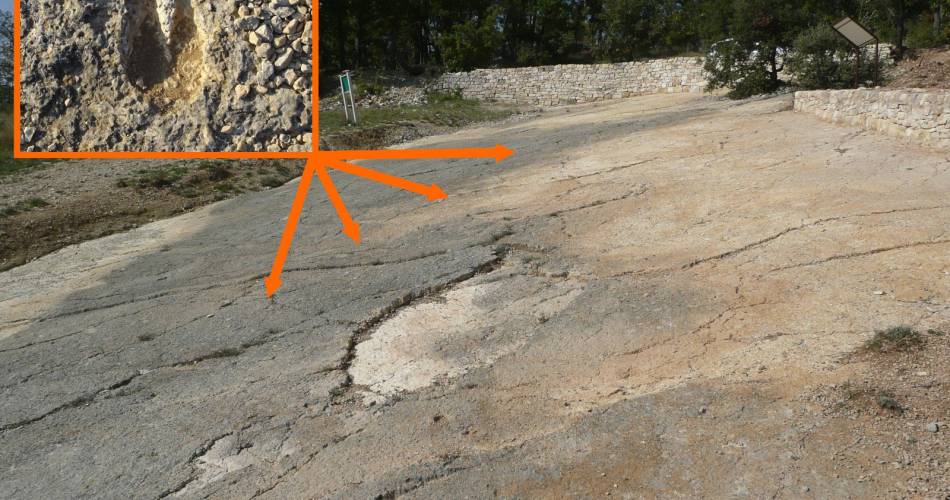 The tourist service at Viens :
A short mountain bike loop with no technical difficulty, starting in the hilltop village of Viens. A sequence of tracks switching from undergrowth to fields, dotted with beautiful views of the Luberon in the south, Mont-de-Vaucluse in the north and Montagne de Lure in the east.
On the way back, keep your eyes peeled for the dalle calcaire further along the trail (8.9 km), a slab of limestone whose surface is covered in over 200 footprints of mammals that inhabited the region 30 million years ago!

Important:
• Beware the livestock guardian dogs in the vicinity of a nearby farm (1.1 km).
• The footprint-covered limestone is a protected site and extremely fragile: bikes are strictly prohibited on the surface.
Accéder à l'itinéraire
recommended
parking(s)
In front of the City Hall
To be noted
Caution
• presence of livestock guardian dogs near the farm (km 1.1).
• The "Dalle à empreintes" is a classified site and is very fragile: it is strictly forbidden to ride here.
If you notice a problem on one of the Provence cycling routes
report it with the Suricate app!:
sentinelles.sportsdenature.fr
In short
A hilly route between woods and crop fields, offering beautiful views of the Luberon, the Mont-de-Vaucluse and the Lure Mountain
At 8.9km, an old limestone slab more than 30 million years old still shows traces of ancient mammals.