Vitrolles-En-Luberon, Cereste, Saint-Martin-De-Castillon, Peypin-D'aigues, La Motte-D'aigues, Cabrieres-D'aigues, Castellet, Auribeau, Saignon, Apt, Buoux, Sivergues, Bonnieux, Lauris
Long Distance Mountain Bike Trail, Stage 8 B – From Vitrolles-en-Luberon to Lauris
Positive elevation
1360 meters
Negative elevation
1613 meters
Altitude
Min. 247 meters
Max. 1067 meters
circuit
variante
voie verte
liaison
Departure / Arrival
Vitrolles-en-Luberon / Lauris
Parking
Lauris
Elevation
GPX track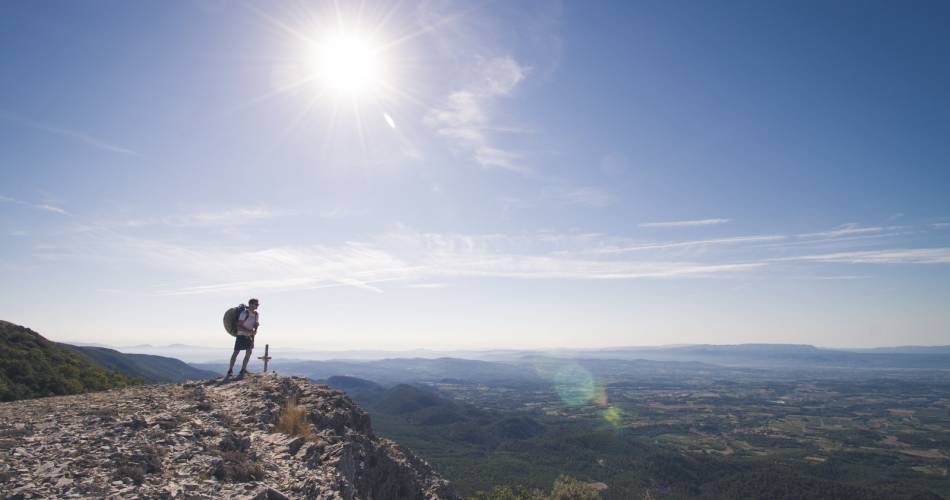 The tourist service at Vitrolles-en-Lubéron :
This section, around the Mourre Nègre, the highest point of the Luberon mountain range, is a delight for those who have the technique and physique to enjoy it. The trail continues through the lush, steep-sided Aiguebrun Valley, a magnificent area that will be much appreciated in hot weather.
After an unforgiving start setting off from Vitrolles-en-Luberon, you'll follow a lovely trail along the wide ridges and pannonic steppes of the Grand Luberon, from where you'll enjoy panoramic sea views to the south and views of Mont Ventoux to the north. The fittest among you may wish to follow the GR (Long distance footpath) that runs parallel to the bike trail. And if you've still got sufficient strength, you can take a short round trip up to the Mourre Nègre (1,125 m), the top of the Grand Luberon, before heading down the north-facing slope, through the young oak forest. The fabulous single-track path is quite narrow and stony in places, so you need to take care. A pretty trail, overlooking Marauvière, will lead you first to Auribeau, and then to the vast Plateau de Claparèdes with its succession of lavender fields and dry stone huts. Finally, you'll reach Sivergues, a village Henri Bosco described as being "at the end of the world". After Sivergues, you'll pass through the lush, steep-sided Aiguebrun Valley, following a stony path which, although bumpy at first, then becomes more forgiving. You'll ride past magnificent cliffs, popular with rock climbers, and the foot of Buoux Fort. It's then an arduous climb back up to the plateau to reach Bonnieux with its maze of narrow lanes and alleyways. Here, you'll change mountain ranges, following a succession of rocky paths and trails up the slopes of the Petit Luberon. It's a picture postcard route, punctuated by beautiful houses and splendid properties. Finally, you'll enjoy a lovely single-file descent, over wild and challenging terrain, down to Lauris.
public transport
View the Vaucluse Zou bus timetableZou Bus Line 7: Apt-Lauris-Aix en Provence.
recommended
parking(s)
Col de l'Aire des Mascas on D33, 4 km after Vitrolles en Luberon.
To be noted
If you notice a problem on one of the Provence cycling routes
report it with the Suricate app!:
sentinelles.sportsdenature.fr
In short
Physical and technical itinerary around the Mourre-Nègre, highest point of the Luberon, a real treat for avid mountain bikers. After a long climb, the route continues along the ridges and grassy areas of the Grand Luberon. It then continues along the balcony path of Marauvière to reach Auribeau and the plateau of Claparèdes, with its lavender fields and dry stone borie villages. After Sivergues comes a descent into the coolness of the steep-sided Aiguebrun valley. Passage near the spectacular cliffs of Buoux, before reaching Bonnieux then Lauris.