Saint-Saturnin-Les-Apt, Villars, Rustrel, Gignac, Caseneuve, Viens, Cereste, Montjustin, Vitrolles-En-Luberon
Long Distance Mountain Bike Trail, Stage 7 – From Saint-Saturnin-les-Apt to Vitrolles-en-Luberon
Positive elevation
1318 meters
Negative elevation
1 meters
Altitude
Min. 278 meters
Max. 695 meters
circuit
variante
voie verte
liaison
Departure / Arrival
Saint-Saturnin-lès-Apt / Vitrolles-en-Luberon
Parking
Vitrolles-en-Luberon
Elevation
GPX track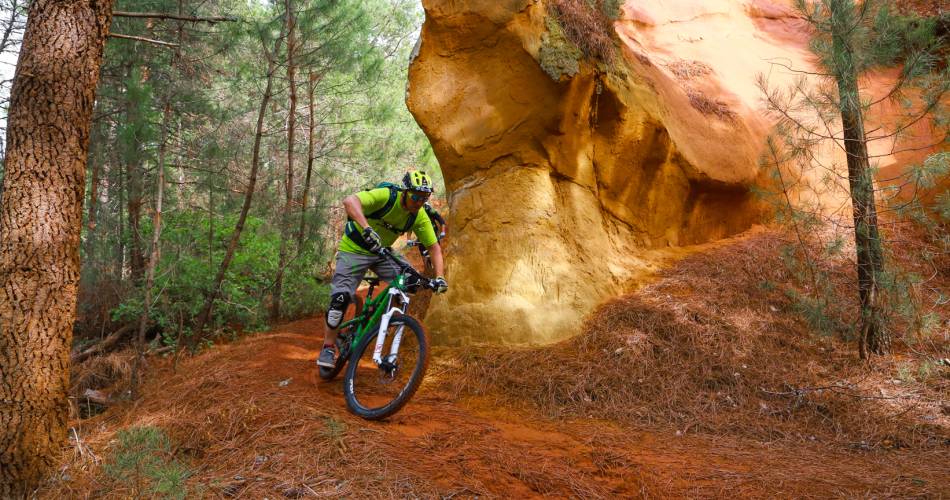 The tourist service at Saint-Saturnin-lès-Apt :
Although this section presents no real difficulties, there is one particular highlight that will take you through the Luberon's renowned ochre massif. After a brief detour into the Alpes-Haute-Provence department, you'll head for the Grand Luberon mountain range, along enjoyable and varied paths.
After a few kilometres of fast cycling through vineyards and cherry trees, along roads and paths, you'll come to the ochre massif with its unusual landscapes and autumnal colours. The sandy and gritty single-tracks of the La Bruyère mountain range contrast with the hard, rocky landscapes of Provence. The ochre mountains then give way to stony trails leading to Rustrel. You'll cycle along the Colorado Provençal, climbing a series of forest paths up to the Pierroux mountain ridge. This lovely single-track path, which boasts a wonderful panoramic view of the Lure mountain, will eventually lead you to the lovely village of Viens with its old city walls.

The scenic route down to the valley, that you'll hit shortly after Viens, will quickly awaken the mountain biker in you! The trail leads to the banks of the Calavon river, then through an old abandoned railway tunnel, to Céreste. After this little foray into the Alpes-de-Haute-Provence department, you'll cycle along the ridges of Montjustin and its village, renovated by Giono and friends. You'll then climb the vast undulating hills of the Grand Luberon mountain range before racing down the western slopes to Vitrolles-en-Luberon, nestled in the southern foothills.
Accéder à l'itinéraire
recommended
parking(s)
Public parking at the Cours de la Liberté, 50 m from the information panel on the Grande Traversée (northeast of the village)
To be noted
If you notice a problem on one of the Provence cycling routes
report it with the Suricate app!:
sentinelles.sportsdenature.fr
Access to the massifs
Respect the regulations preserving protected natural areas – find out about restrictions to accessing the massifs during fire risk periods, from 15 June to 15 September.
Before heading out, check the website
In short
Rocky and sandy single-track trails in the Ochre massif
Rocky path towards Rustrel
Crested single track along the Provencal Colorado
Calavon river bank, and former railway tunnel before Céreste.