Saint-Saturnin-Les-Apt, Lioux, Murs, Gordes, Cabrieres-D'avignon, Saumane-De-Vaucluse, Le Beaucet, La Roque-Sur-Pernes, Fontaine-De-Vaucluse
Long Distance Mountain Bike Trail, Stage 5 – From Saint-Saturnin-les-Apt to Fontaine-de-Vaucluse
Positive elevation
1585 meters
Negative elevation
1 meters
Altitude
Min. 80 meters
Max. 662 meters
circuit
variante
voie verte
liaison
Departure / Arrival
Saint-Saturnin-lès-Apt / Fontaine-de-Vaucluse
Parking
Fontaine-de-Vaucluse
Elevation
GPX track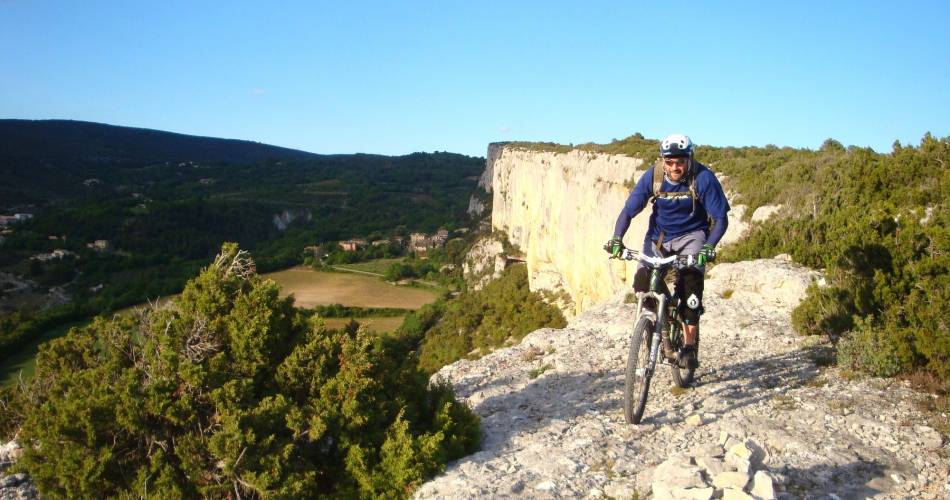 The tourist service at Saint-Saturnin-lès-Apt :
Set off from Saint-Saturnin-les-Apt, and after cycling through vineyards and orchards you will soon reach the rural valley of Font Jouval.
You'll then embark on a short but intense climb up the impressive 'Falaise de la Madeleine' cliff, overlooking the village of Lioux. The chalky clifftop path, with a fabulous panoramic view, is a great place for mountain biking. After Lioux, it's another long climb to Bezaure at the entrance to the valley known as 'Combe de Vaumale', and then a climb up a difficult, winding path to reach the village of Murs.

From Murs, speed along to the beautiful valley known as 'Combe de Véroncle', then onto a challenging trail. You will come out at the village of Gordes, famous for its dry-stone buildings. After Gordes, the route brings you into the Sénancole valley, in the heart of a stunning mineral landscape. After this it's a long uphill stretch lined with boxwood through the Grande Combe valley to the Rocher des Trois Luisants (alt. 661m), followed by a lengthy descent alternating between tracks and trails in a rough landscape of limestone and stones, as far as Saumane-de-Vaucluse and its castle. A final effort will bring you to the village of Fontaine de Vaucluse, from where you can enjoy one last, thrilling downhill stretch, with your sights set on the meandering river Sorgue and its source.
recommended
parking(s)
Parking in the town centre
To be noted
If you notice a problem on one of the Provence cycling routes
report it with the Suricate app!:
sentinelles.sportsdenature.fr
Access to the massifs
Respect the regulations preserving protected natural areas – find out about restrictions to accessing the massifs during fire risk periods, from 15 June to 15 September.
Before heading out, check the website
In short
Ascents and descents between wild valleys and rocky peaks.
Following a programme of stops in legendary and charming villages: Gordes, Fontaine de Vaucluse, and Saumane, and its castle!