Robion, Maubec, Oppede, Menerbes, Beaumettes, Goult, Lacoste, Bonnieux, Apt, Gargas, Saignon, Caseneuve, Saint-Martin-De-Castillon, Castellet
EV8 : Mediterranean by bike
Positive elevation
337 meters
Negative elevation
136 meters
Altitude
Min. 93 meters
Max. 300 meters
circuit
variante
voie verte
liaison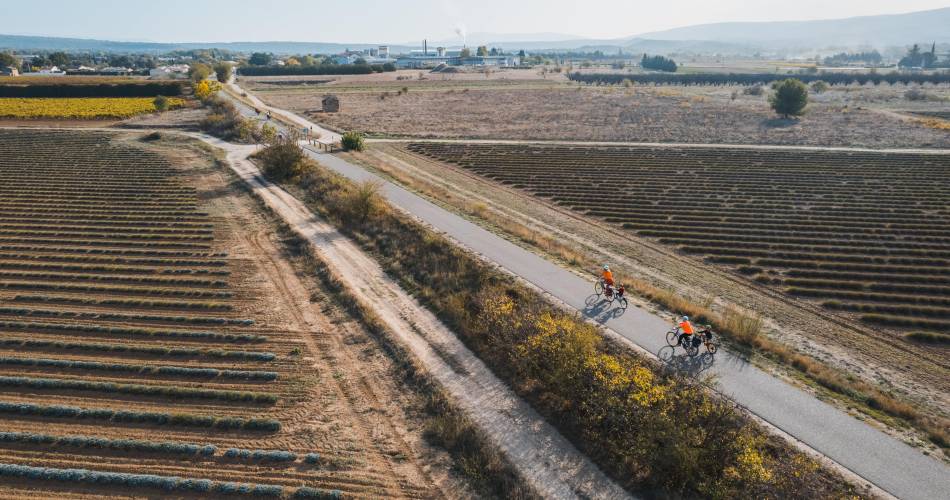 The tourist service at Robion :
The 'Véloroute du Calavon' (Calavon Greenway) is a designated cycle path, 37 km long, between Coustellet, in the west, to "la Paraire" in the town of Saint Martin de Castillon in the east.
In a few years, this itinerary will end up crossing the entire Calavon river valley, starting in Cavaillon and joining Vaucluse to Bouches-du-Rhône and Alpes de Haute Provence departments.
This circuit is included in 'Eurovéloroure no. 8, the Mediterranean by bike' which will eventually join Greece (Athens) to Spain (Tarifa).
Accéder à l'itinéraire
public transport
By bus :Line 15.1 Avignon TGV - Apt / Bike transport possible (max 6 bikes) Line 15 : Avignon TGV - Cavaillon - Apt Line 18 : Cavaillon - Bonnieux - Apt Line 17 : Cavaillon -Gordes-Roussilon - Apt Line 17 : Marseille - Aix-en-Provence - Cavaillon - Carpentras Line 22 : Avignon TGV - Cavaillon - Apt - Forcalquier - La Brillanne - DigneLine 25 : Marseille - Aix-en-Provence - Manosque - Forcalquier
recommended
parking(s)
Robion - Avenue de la Gare
road access
A7 - D2 heading in the direction of Cavaillon, then D900 (exN100) towards Apt. A51 – Pertuis, Manosque or la Brillanne, then D4100.
To be noted
The route uses roads open to all motor vehicles, but with low traffic. Respect the highway code.
If you notice a problem on one of the Provence cycling routes
report it with the Suricate app!:
sentinelles.sportsdenature.fr
In short
A pleasant and safe course along the Calavon
Greenway route (except for village crossings)
Passage on the Julien Bridge, ancient Roman aqueduct
Beautiful views of the Luberon Massif and its hilltop villages