Bedoin, Flassan, Sault
MTB n°4 - Le Rat
Positive elevation
1222 meters
Negative elevation
1221 meters
Altitude
Min. 297 meters
Max. 1248 meters
circuit
variante
voie verte
liaison
Departure
Bédoin
Arrival
Bédoin
Parking
Bédoin
Elevation
Downloads
GPX track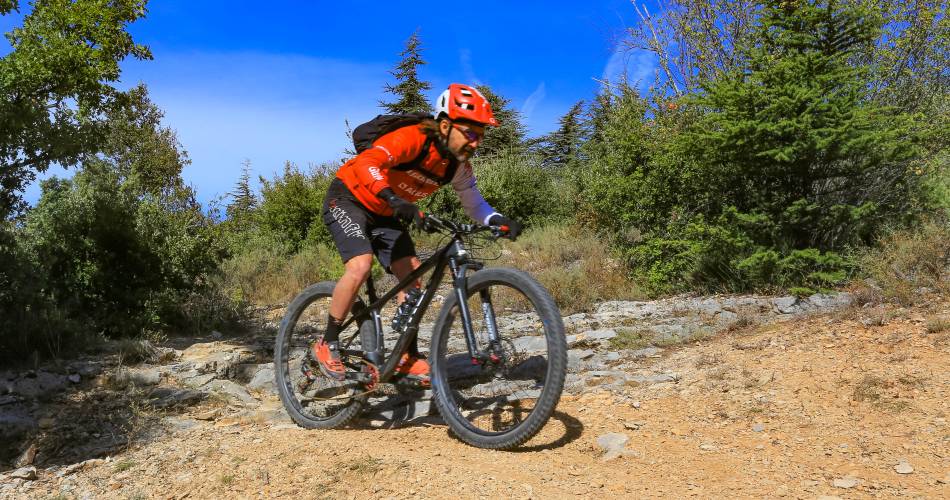 The tourist service at Bédoin :
This is the longest and most challenging of Bedoin's four mountain bike trails.
The route sets off from the market place and then, at both the beginning and the end, follows the same route as the Pavillon Rolland circuit. After cycling through the ochre landscapes, and the hamlets of Les Baux and Sainte Combe, the gradient increases sharply, and the single-lane track narrows as you ride through the Combe de Canaud and Combe de Clare valleys, until you reach the forestry house at the place known as "le Rat," just a stone's throw from the Chalet Reynard. Then a technically challenging descent leads you along zigzag bends, via the forêt de Cèdres and the Combe d'Ansis, back to Bedoin.
recommended parking (s)
Parking at the municipal campsite
In short
The ochre site of the Demoiselles Coiffées
Bédoin and its charming hamlet Les Baux
Discovery of the south face of Mont-Ventoux: combes, forest, jas


During hunting season, wear brightly coloured clothing, make yourself known and respect the signage put in place by the hunting party.


If you come across a herd of animals, go around rather than through it and respect safety regulations concerning livestock guard dogs.