Bonnieux, Lacoste
MTB trail no. 49 - The Cedar forest on the Petit Luberon
Positive elevation
98 meters
Negative elevation
100 meters
Altitude
Min. 654 meters
Max. 708 meters
circuit
variante
voie verte
liaison
Departure
parking de la Forêt des Cèdres - Bonnieux
Arrival
parking de la Forêt des Cèdres - Bonnieux
Parking
parking de la Forêt des Cèdres - Bonnieux
Elevation
GPX track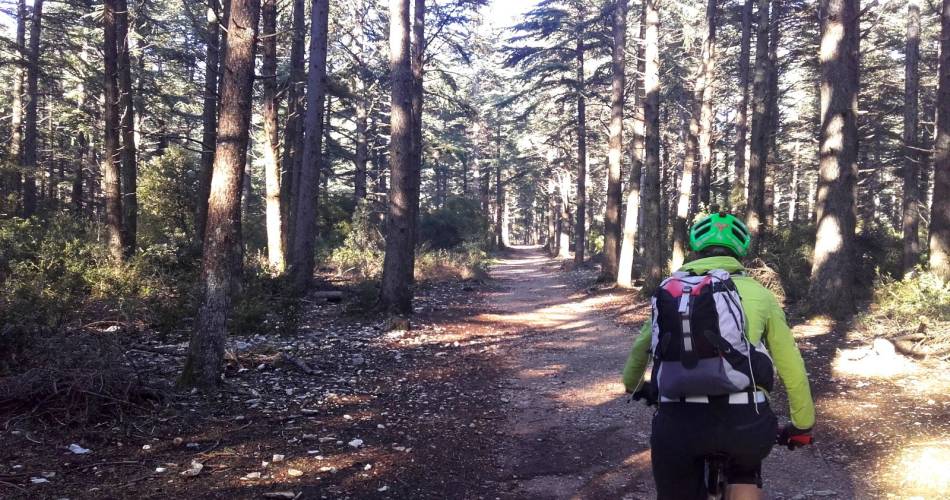 The tourist service at Bonnieux :
A short yet oh-so-magical mountain bike loop! A gradual ascent on a surfaced track, an easy ride fit for beginners along forest paths surrounded by ancient cedars and a descent following narrow trails that are fun to ride on.
All this complemented by panoramic views, a breath of fresh air and interpretation panels en route. What's not to like!

Variation (Green/easy): option to include a 10-minute return trip to the Portalas belvedere at the south side of the forest (popular with walkers so pay attention!).

Variation (Red/difficult): longer and more arduous: from Bonnieux follow trail no. 35 as far as the ''Les Crets'' panel and then join the Route des Crêtes and the start of trail no. 49, then on the way back descend from the "La Tour Philippe" panel back on to the trail no. 35.

Important:
• Beware the livestock guardian dogs on the mountain ridges in spring.
• Watch your speed on the descent – you might not be the only one on the trail!
recommended parking (s)
Cedar Forest Parking - Bonnieux
In short
A short but magical mountain bike route!
A progressive climb on a paved path
An easy immersion into shady forest paths and the freshness of the ancient cedar trees
A descending return journey along narrow and fun paths
Panoramic views and informative signposts
Optional access to the Portalas viewpoint
Caution:
• Presence of livestock guardian dogs on the peaks in springtime
• Control your downhill speed - you are not the only person on these paths!
Check your equipment before departure
The day before your trip, check access to the massif in case of fire risk
https://www.risque-prevention-incendie.fr/vaucluse
/
T. +33)4.28.31.77.11
In case of fire,
call 18 or 112