Cabrieres-D'avignon, Fontaine-De-Vaucluse, Gordes, Lagnes, La Roque-Sur-Pernes, Le Beaucet, Saumane-De-Vaucluse
MTB no. 9 - Grand Tour of the Plague Wall - GPS
Positive elevation
meters
Negative elevation
0 meters
Altitude
Min. meters
Max. meters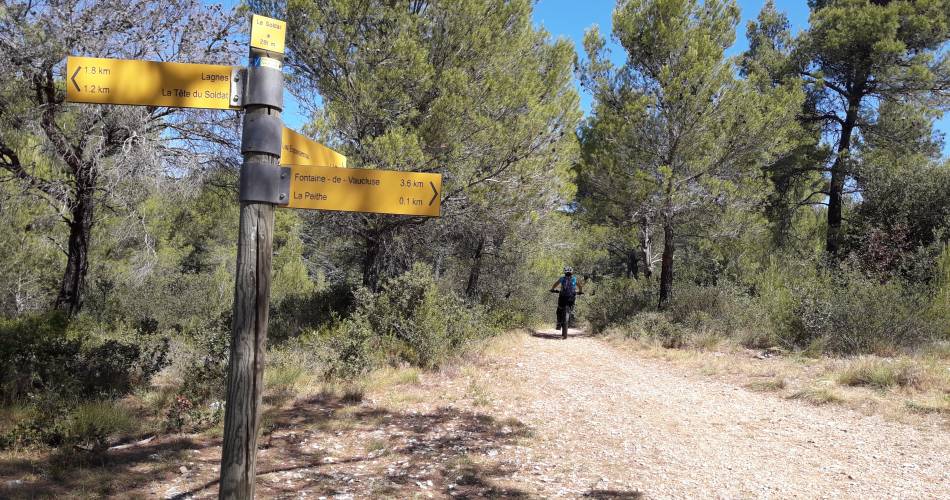 The tourist service at Cabrières-d'Avignon :
Starting in Cabrières-d'Avignon, this circuit features the very best of Provence's mountain trails, criss-crossing a raw landscape studded with limestone and rocks. The Plague Wall dating from 1720 is the guiding thread.
Just as extraordinary and spectacular as the "push bike" circuit, but without the more gravelly and technical downhill section of the trail, situated north of the route from the summit ridges (Vigie).

Highlights: wild cliffs and combes, panoramic vistas from the top of the Monts-de-Vaucluse, banks of the Sorgue, cobblestoned paths, dry-stone buildings, historical sites.

Important: beware the livestock guardian dogs on the ridges in spring.
recommended parking (s)
In front of the town hall.